<![if !vml]>

<![endif]>Armidale Animal Breeding Summer Course 2015
Venue: University of New England, Armidale, NSW Australia
Course Audience: Postgraduate students and other professionals
Module 1
Primer to Analysis of Genomic Data Using R
Teacher: Cedric Gondro
University of New England
Armidale, , Australia
Dates: Wednesday 28 January 2015 (9am) - Friday 30 January 2015 (4pm)
Content 2015 Course Module 1:
Understanding the basics of R needed to analyse genomic data.

The basics of Illumina

BeadChip

genotyping and analysis in Genome Studio.

R packages available for genomic analysis.

How to work with and manipulate large data files.

The importance of pre-processing and quality control with genomic data.

Principles of genome wide association studies.

Principles of expression analysis.

Working with public databases to extract biological information.
Automation of analyses
Website Link for materials Module 1:
http://www-personal.une.edu.au/~cgondro2/Rcourse.htm
Module 2
From Sequence Data to Genomic Prediction
Teachers: Ben Hayes and Hans Daetwyler
Department of Environment and Primary Industries
Bundoora, Victoria, Australia
Dates: Monday 2 February 2015 (9am) - Friday 6 February 2015 (4pm)
Materials Module 2:
NOTES
SLIDES
Day5 Genomic Prediction with Sequence
Day5 Genomic Breeding Programs
Day5 Imputation to sequence (1 slide)
PRACTICALS
data for sequence prac (100 Mb) is on

https://www.dropbox.com/sh/3ug96im9vyxlo7f/AAB5eOUyQGXhkYcPa6ss_NrAa
<![if !supportLists]>· <![endif]>Materials previous Armidale summer courses
<![if !vml]>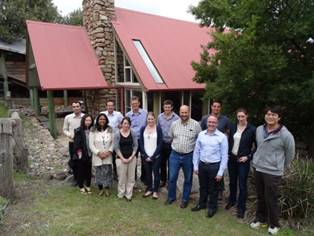 <![endif]>
<![if !vml]>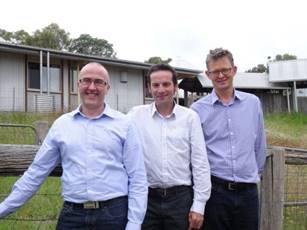 <![endif]>
A subset of participants Hans, Ben and Julius
<![if !vml]>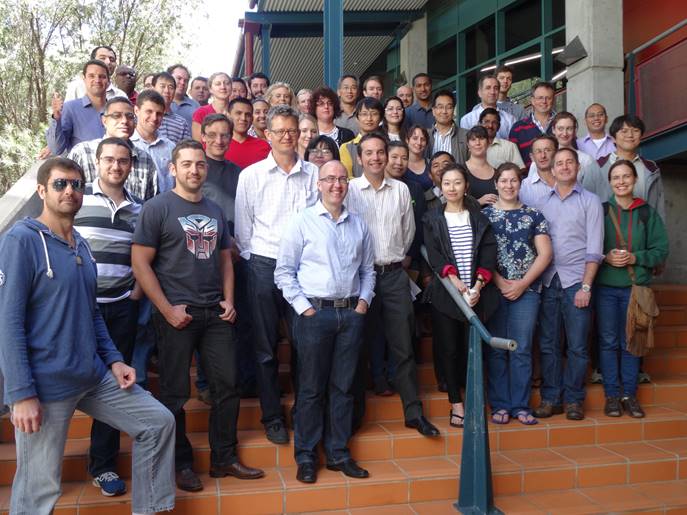 <![endif]>
<![if !supportLists]>· <![endif]>Materials previous Armidale summer courses
Animal Genetics, UNE
phone: 02 6773 2092
fax 02 6773 3922
back
to top


Material of previous years:
Armidale Animal Breeding Summer Course 2014 Materials
Breeding Program Design with Genomic Selection: Jack Dekkers, Julius van der Werf
Armidale Animal Breeding Summer Course 2012 Materials
Statistical Methods for Genome-Enabled Selection: Daniel Gianola, Gustavo de los Campos
Armidale Animal Breeding Summer Course 2011 Materials
<![if !supportLists]>· <![endif]>Statistical methods and design in plant breeding and genomics: Ian Mackay
<![if !supportLists]>· <![endif]>IBD inference in genome association studies: Elizabeth Thompson
Armidale Animal Breeding Summer Course 2010 Materials
<![if !supportLists]>· <![endif]>Application of evolutionary algorithms to solve complex problems in quantitative genetics
and bioinformatics: Brian Kinghorn, Cedric Gondro
<![if !supportLists]>· <![endif]>Bayesian methods in genome association studies: Dorian Garrick, Rohan Fernando
Armidale Animal Breeding Summer Course 2009 Materials
<![if !supportLists]>· <![endif]>Quantitative Genetic Theory and Analysis- Selection Theory: Bruce Walsh
<![if !supportLists]>· <![endif]>Quantitative Genetic Models for social interaction and inherited variability: Piter Bijma
Armidale Animal Breeding Summer Course 2008 Materials
<![if !supportLists]>· <![endif]>Genomic Selection: Ben Hayes
Armidale Animal Breeding Summer Course 2007 Materials
<![if !supportLists]>· <![endif]>Generalized Linear Mixed Models: Steve Kachman
Armidale Animal Breeding Summer Course 2006 Materials
<![if !supportLists]>· <![endif]>Gene Expression: Toni Reverter
<![if !supportLists]>· <![endif]>Breeding Program Design: Graser, James, Van der Werf
Armidale Animal Breeding Summer Course 2005
Materials
<![if !supportLists]>
·
<![endif]>
Breeding Objectives: Gibson, Van der Werf, Kinghorn
<![if !supportLists]>
·
<![endif]>
Scientific Writing: David Lindsay
<![if !supportLists]>
·
<![endif]>
ASReml
: Arthur Gilmour
Armidale Animal Breeding Summer Course 2004
Materials
<![if !supportLists]>
·
<![endif]>
Bayesian for Beginners Kerrie

Mengersen
<![if !supportLists]>
·
<![endif]>
Bayesian Models for QTL analysis Michel Perez-Enciso
<![if !supportLists]>
·
<![endif]>
Bioinformatics John McEwan
Armidale Animal Breeding Summer Course 2003 Materials
<![if !supportLists]>
·
<![endif]>
Scientific Writing: David Lindsay
<![if !supportLists]>
·
<![endif]>
Linear Models for animal breeding: Julius van der Werf, Mike Goddard
<![if !supportLists]>
·
<![endif]>
QTL mapping for practitioners, from linkage to gene: Ben Hayes, Julius van der Werf
back
to top
<![if !supportLineBreakNewLine]>
<![endif]>